Best Arc Welders, MIG Welders, and TIG Welders Around!
About GMK Welding Services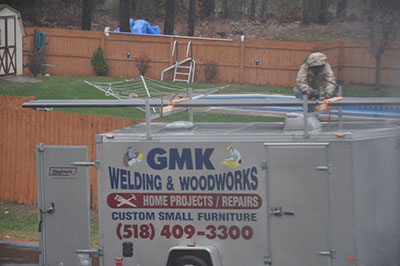 Glenn Gentry of GMK Welding is a skilled tradesman and performs welding repairs, light fabrication work along with mig and tig welding and arc/stick welding. Glenn can take his equipment on the road with his mobile, on-site and emergency services. He takes the time to get to the heart of what is needed with fair and honest quotes of what is needed and how best to proceed. Each job and customer is different and will have unique circumstances and needs to be addressed which Glenn is always eager to discuss in great detail, leaving nothing to chance. Glenn takes the time to meet with you to discuss your time constraints, fabrication issues, payment structure, materials purchases and general coordination of the important job at hand. He is fully insured and can provide references and can share a portfolio of his extensive work over 35 years. More recently, Glenn has made a hobby and sideline out of designing and creating decorative metal lawn art. Among the many one of a kind designs he frequently creates bear, deer and other forest animals. The unique lawn ornaments make excellent gifts. Metal lawn art is a four season decorative addition to your home and only becomes more beautiful with age and wear over time. A special patina that comes from sun, rain, snow and age will emerge and can be cherished for years to come.
Call 518-409-3300 for emergency service or to discuss job specifications and requirements. Call to make arrangements.